Storytelling is powerful.
Every church communicator wants to be a better storyteller on social media, in video format, or in the written form and many of us are pretty good at it! If we just had enough stories to tell.
Isn't that always it? You can tell a great story, write a great article, but you just don't know where all these stories are supposed to come from! How on earth can you find out about the couple who narrowly avoided divorce or the young lady who beat cancer or the student who gave all their savings to your church building project?
I asked some of today's top church communicators to tell me how they went about collecting stories and compiled some of their answers for you here today. Get ready to collect stories at your church like a pro!
Beau Coffron
Social Media Director at Life.Church in Edmond, OK
"I think the key is that when we hear stories being told in places like the church lobby, they get written down and recorded. Many times we just forget those stories because we get busy with everything else.
We need to remember that those stories might not be needed next week, but there is a good chance that we can use them sometime in the next year."
Brady Shearer
ProChurchTools.com and host of the ProChurch Podcast
"I usually ask people face to face. It can be a big ask, so leveraging existing relationships is the best approach I've found…and Nucleus."
Meghan Howard
Executive Teaching Pastor at Fairborn UMC in Fairborn, OH
"We ask our small group leaders what stories they are hearing. I will typically scan my social channels (during my listening hour) to see what people are saying and the stories they are telling in their own life. We don't have a formal process – no website, rarely ask on social. Our process is through conversation and relationship.
We actually had someone recently wrote out her testimony on her own personal FB page. We asked her, after reading it, if she would be willing to share it (read it) during the worship."
Adam McLaughlin
Communications Director at Life Church in Fort Meyers, FL
"We did a paper survey that we handed out to everyone asking them about how they met Jesus, what they're life was like before and how their life is different. We asked for 1 sentence answers to those 3 questions, then their contact information if we wanted to develop the testimony.
We also have them sign off that the story is accurate before publishing it. Also, every week before our offering, we read a testimony from someone in our church anonymously.  Sometimes it's that they were healed, or they got a raise at work, or a family member was saved that they've been praying for. When we finish the story, we always give a call to action (i.e. Email: testify@lifechurch.net) for others to send in the story."
Alex Frahm Johnston
Social Media Manager and Storyteller at Highland Park UMC in Highland Park, TX
"Storytelling is something you really have to inject into the bloodstream of your staff. You start by asking them to share their own stories, whether that is something personal they have been through that challenged their faith, or using their area of expertise to answer some theological question or talk about something relevant to the culture.
After you get staff to see the value of stories, they will bring stories from the congregation to you. In the meantime, get involved in some of your church's ministries. Pay attention and listen for story ideas and never be afraid to ask people if they would be willing to share.
You'll be surprised how many stories you will find when you start looking for them and stop waiting for them to come to you."
Rob Laughter
Director of Digital Ministries at The Summit Church in Durham, NC
"It's not a flashy communication strategy, but just having a culture where those things are shared and celebrated will go farther than any tactic I could give you.  As Peter Drucker said, "Culture eats strategy for breakfast."

We get a lot of stories organically. Our theme this [last] year was "The Year of Disciple Making," so we've been training our staff to keep their ear out for stories and pass them on to our communication director. We also have weekly staff prayer where stories will come to light. Then it's just a matter of recognizing them and capturing them.

What you celebrate, you replicate."
Tom Pounder
Online Campus Pastor at New Life Christian Church in Chantilly, VA
"We ask! After every baptism, we ask people if we can share their stories. We ask life group leaders whose life is being changed that we can share.
We want to create an environment where staff members and lay leaders are consistently asking others to share their stories."
Ben Stapley
Creative Arts and Online Pastor at Liquid Church in Parsippany, NJ
"We ask our life group leaders to send in powerful stories once a week. Also our webpage has a link with copy that looks like this:
(Actual copy on the page:) At Liquid, we celebrate together as lives are transformed by God's love and grace. That's why we share our stories – stories of struggles overcome, dreams achieved and lives transformed. If you have a compelling story you'd like to share of God at work in your life, email us, and we'll see if we can capture it.
We also applaud after the story is shared in the service. This honors and values the storyteller. It also encourages others to share down the road."
Jonathan Malm
Author of Unwelcome and The Hidden Option
"Champions Centre has created a story collection team. They just approach people before and after service and ask how they found out about their church. If it seems like a deeper story, they dig further and then ask permission to use the story online and in videos.

The team is a collection of volunteers who have mentioned they're interested in writing and are outgoing. No official lanyards or shirts. Just casual. They have a photographer floating around ready to grab a quick pic if they need.

That's one of the coolest ways I've heard to do it and also create a new volunteer position. Not my church. But a church I chatted with recently."
Brian Mann
Creative Director at Ecclesia Church in Houston, TX
"Our team goes out and pursues stories, much like journalists would. We meet with our ministry leaders, Senior Pastor, prayer & care team and group leaders. And we have people on our Story Team whose role is to find new story leads. Our experience has been that, when we actively look for leads, the stories end up being better.
Usually, with our leaders, it's easiest during the week, but we still have team members in the lobby most Sundays. We've also done open mic audio booths for people to share stories Sundaysays in the summer. Found a lot of good leads that way."
Phil Bowdle
Creative Arts Pastor at West Ridge Church in Dallas, GA
"Sync up with the team running baptisms, where they are seeing and hearing testimonies of people who have given their lives to Christ.

Also, don't look for the most sensational stories that are powerful, but sometimes hard to relate to. Look for simple stories of people who have overcome some type of barrier that people can see themselves in."
Justin Brackett
Digital Communications Director at Seacoast Church in Charleston, SC
"We watch comments on our social accounts really closely. If we see something that feels like a story we will reach out to that person and ask them if they want to tell us more about their comment or post.
That is one way we've gotten some great stories outside the normal asking face to face."
A Few of My Own
If I could, I'd like to add a few ideas of my own to the mix that can help you collect stories. In no particular order, here's a few more ideas and a few summaries of ideas presented already…
Regularly ask for stories in staff meetings to create a culture of storytelling

Identify what makes a good story so staff will know what to look for (don't limit stories to those which have been resolved already. Leave the tension.)
Ask your small group/lay leaders to tell you stories they hear whenever you meet or email them
Start a Facebook

 group for staff only and post stories there

Start a Google Doc/Task management document for everyone to access and post stories
Create a form on your website to collect stories
Share stories often on social and always give the link for readers to share their own story
Talk about the stories online or social from the stage or video to encourage people to share
Set up an email address for stories
Honestly, to find good stories, you're going to have to be a little like Lois Lane and chase them down. But when you catch good stories, you'll find that you can help those far from God see themselves in a redemption story where they could not before! That's powerful.
Thanks for reading and make sure to catch episode 44 of my podcast, The Seminary of Hard Knocks, where I talk to Robert Carnes about his new book all about the master storyteller!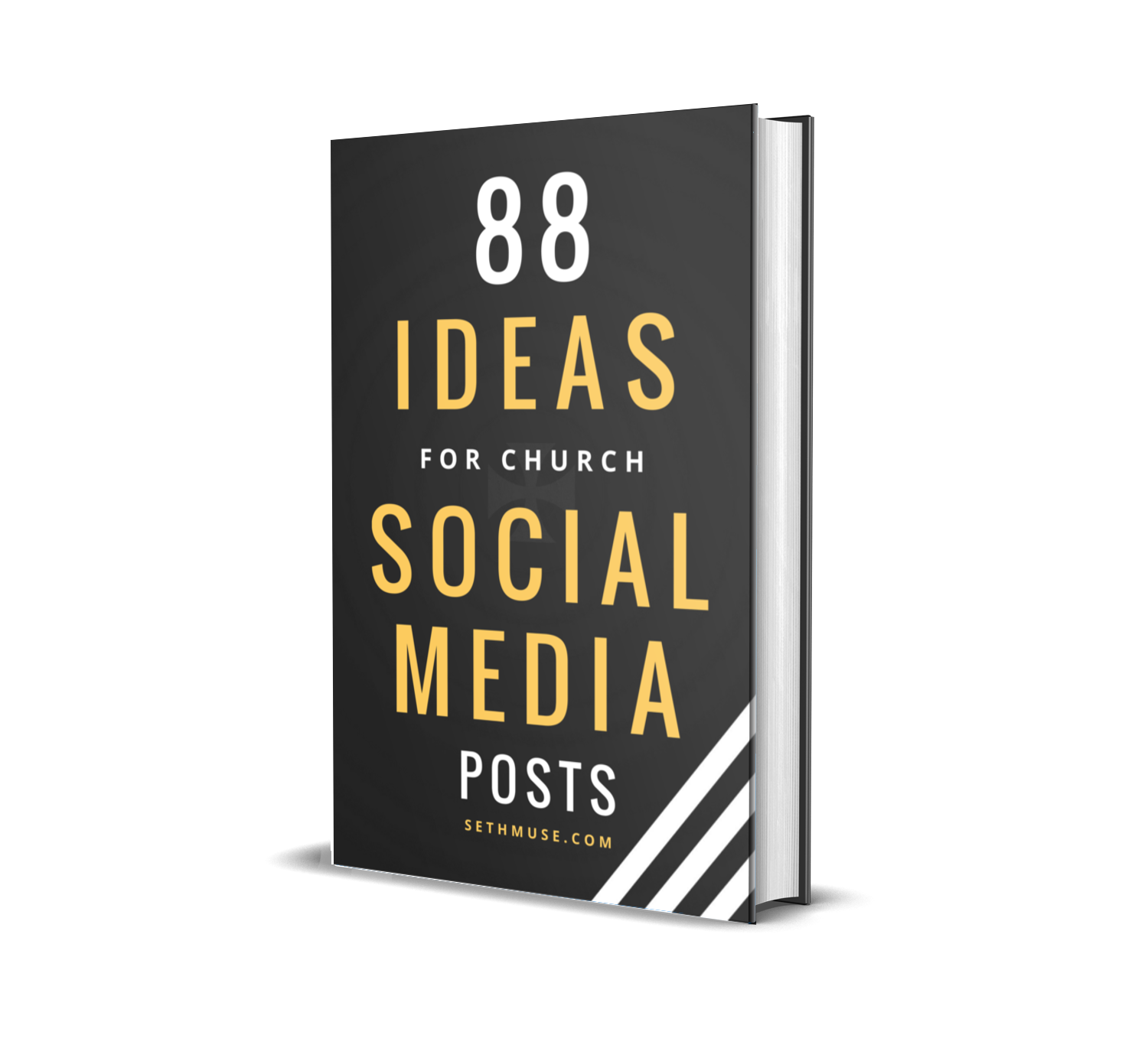 Everybody needs help.
I hear this question all the time from church communicators: How do I keep posting fresh, new ideas to my church social media channels? 
This PDF has 88 ideas that will help you get conversations started on social and bring value to your followers.
Join my very fun email list and I'll send it to you within seconds!