Right now, a website is more important than ever.
But so many of them are. So. Bad. 
Not bad because the necessarily look bad. But bad because they are often missing incredibly important information. Sometimes it isn't missing, but it's the prize of some really difficult scavenger hunt.
These are 5 things your website needs to have upfront and easy to find or it's going to frustrate visitors and make them leave. 
A Message that answers the most important question
Why should I care? If you put something generic like "welcome home" or "we saved a seat for you" that doesn't really mean much. What problem is your church uniquely positioned to solve for the people of your community? The answer to that is why they should care. 
And it has to be something that they care about, not something that you care about for them. 
I once worked at a church that really knew how to do care ministry well. They had addiction classes, marriage classes, counseling, and lots of serving opportunities in the community. The first thing someone reads on their website should have something to do with that. Something that says "Here, we care about people and we're going to want you to do that too." 
It's important that you spend some time on this message. So many churches just throw this line away but it is one of the first impressions visitors to your site will have of your church. Don't waste it.
Service Times
Before someone ever scrolls or swipes, they should be able to find out what day and the time your services are. If you are doing online services only or if you have some kind of in-person combo with church online right now, make it clear what you're doing and how to be part of it.
Easy-to-find contact information or a contact form
If I have questions about your services, student ministry, if you require masks, or if you like to handle snakes in the service, I'd like to easily ask those questions and not have to search around for it. 
I once had to go to a church Facebook page, then the pastor's page, which had an email address in the about section before I could talk to someone at the church. THAT'S TOO HARD! Most people won't do that.
A way to connect via email or text
This is not a contact form. This is an inbound marketing section of your website designed to get a visitor's email address on your email list so you can contact them further about the church with your automation and newsletters. 
Usually, you will need to trade them something of value for this like a PDF or checklist. It's not hard to come up with ideas for this like "5 ways we help parents parent at our church." Don't just put "Join our Newsletter." That's boring. Boring does nothing for you.
A button that makes giving easy
This is a good button for the top right corner and right now one of the most important buttons on your website. I hate talking about money, but right now if you make it easy for people to give to your church online, you're going to run the risk of laying people off or at worst, closing. 
There are many online giving services out there that you can set up and link to easily. Even if you have a congregation that isn't so savvy to digital tools, you can walk them through it with clear step-by-step instructions and a few short how-to videos you can make with Loom. 
There are many other things you probably should add to your website. If you'd like an audit done, you can contact me and I will do an inexpensive deep dive on your website and help you determine what strategic changes you could make to make it easier for visitors to connect with you. 
What are your must-have items?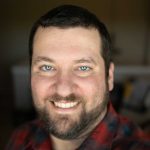 Seth has been in ministry for over 20 years, recently serving as Communications Director at a thriving church in North Dallas. He is also the host of The Seminary of Hard Knocks podcast, blogs at sethmuse.com, and has his Masters of Arts in Media and Communications from Dallas Theological Seminary. Seth specializes in helping church communicators use social media and content marketing to find common ground with their audience to empower them for spiritual growth.