You've got to talk about events and announcements.
You just have to.
Your pastor is going to ask for posts on social media that have one purpose: to relay boring information to less than the 1% of your followers who will see it. They won't share it. They won't comment on it. It will drag your next post down just a little. But you know you have to post it.
So what do you do?
Two Options
First, you could ignore the request, do what you want, and probably lose your job at some point in the now near(er) future. You'll get to sit at the desk of your new job and tell everyone how right you were, though!
Or you could find a new way to talk about events that isn't boring so that both your pastor and your people get something valuable out of the post.
Make Announcement Fajitas
I love Tex-Mex. What I mean is I love cheese, tortillas, meat, and salsa. All Tex-Mex is pretty much some combination of those things. And it's El Magical.
But it makes me feel better if I put some lettuce, tomato, onions, or peppers in my fajita. I hardly notice I'm eating healthy!
Nobody likes lettuce. Those who say they like plain lettuce with nothing on it are not worthy of your trust. These people should never babysit your kids nor should you expect to like their "famous" homemade salsa.
While peppers and onions have lots of vitamins and flavor, what's the redeeming quality of lettuce? I mean, it's baaaaasically water. Am I right?
But if you can find a way to wrap the lettuce inside a bunch of other good stuff that the Lord has blessed like fajita steak, salsa, cheese, and a fluffy flour tortilla, you don't mind getting the good stuff too. Of course, in this metaphor, it's not really doing you much good, but at least you can say you ate lettuce. Just in case someone asks. 
Just like the fajita is meat, cheese, guacamole, peppers, onions, and salsa with a little smuggled lettuce wrapped in a tortilla, you have to learn to wrap your announcement info inside of another kind of post.
Recipes for Great Announcement Fajitas
Instead of a post about your Valentine's Banquet with the times, dates, and sign up URL complete with event graphic, why not run a poll asking married couples which proposal is better: A surprise with family and friends or a surprise that's private and romantic?
Instead of a post about your new sermon series this weekend with the series graphic, why not ask a question that teases up the topic for the first session? In the caption, you can tell them that they can get more answers this weekend when the new series starts.
Instead of giving the mission trip dates, times, cost, and a cool graphic ask someone who has gone on a trip before to record a 60-second iPhone video to tell others why the trip was so great and why they should sign up.
Instead of just giving out information, find something fun, exciting, interesting, or engaging about the event and use that to talk about the event.
Learning to talk about events without talking about events on social media is learning to put lettuce in your fajita.
Serve up Announcement Fajitas, not salad on social media.
This is what we help our partners do every week at Church Comm Team. We're a remote team of church communications pros that help your church execute both internal and external communications for less than the cost of one full-time employee's salary. Check us out!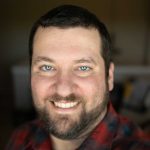 Seth has been in ministry for over 20 years, recently serving as Communications Director at a thriving church in North Dallas. He is also the host of The Seminary of Hard Knocks podcast, blogs at sethmuse.com, and has his Masters of Arts in Media and Communications from Dallas Theological Seminary. Seth specializes in helping church communicators use social media and content marketing to find common ground with their audience to empower them for spiritual growth.