I've been reading a fantastic book lately called
A Winner's Guide to Negotiating: How Conversation Gets Deals Done by Mollie Fletcher and I highly recommend it. This book is all about trying to get people to do something that you want them to do. It's not manipulation or force, it's simply leveraging the art of relationships with clear goals and communication.
I'm going somewhere, I promise, so stay with me a sec.
Her steps are 1) Set the stage, 2) Find common ground, 3) Ask with confidence, 4) Embrace the pause, and 5) Know when to leave.
Instagram is a great platform for engagement, no doubt. But what are you really trying to do with it?
Like most church communicators, you probably want to see some kind of results from all your work and that usually means that they show up at a church service and start getting plugged in.
Social media (relationships in general, for that matter) are a series of negotiations. Instagram is the stage and we definitely know how to ask for things, but the step we often miss is the crucial one in the middle.
Let's talk about how we find common ground with our audience on Instagram.
Harry Potter and the Ridiculously Cool Dragon
When we went to Universal Studios Orlando, by far the highlight of the park was Harry Potter world. Here's just one of the sights we saw:
Yep, that's a huge dragon that breathes real fire you can feel over the heads of the crowd.
And regardless of how you feel about Harry Potter, most of the free world loves it. When I posted this video the first time on Instagram, I was able to connect with many new people and some I had not connected with in a while who wanted to comment on the video and talk about it with me.
Why is that?
Because that's what people on social media really want to see and talk about. And it's pretty arrogant to think of them as less-than because of that. Some of us even take the title of "corrector of reasons" and actually shame them (mostly privately) for their "misuse" of the platform.
Silly rabbit, Grams are for serious.
Common Ground Content for Churches
If you want to dig into some really great content marketing, it may be time to pick up a newspaper.
Wait….what? What's a newspaper?
I get this paper called Community Impact and it's distributed according to your city all across DFW. I get the Plano one, but I run a few ads in the Frisco and McKinney one where our church campuses are. But that's not the point.
The point is, I actually like to pick it up and read it because it is FULL of upcoming community events. They're doing the work for you! Then you simply find ways to talk about these events. I'm talking about fun runs, music festivals, days in the park, art in the park, restaurants opening up, you name it. They are a goldmine for the things going on in your city.
Now you find people who are participating in these things. How? Post about it.
Hey, who's going to Art in the Park fest? It's a display of artists who exclusively paint nude dogs and it sounds really rad.
Nude dogs. Public nudity has been such a problem this year in the canine community.
Community events like high school football games and big concerts are also great community-focused content. If you have a new store opening up, see if you can have one of your pastors pray for the employees and community at the ribbon-cutting. Contact your chamber of commerce and they will tell you all about the new businesses opening up soon and how to contact them.
The Point
The point is, you can spend your time creating content that you think people should care about, or you can get their attention with content they already do care about.
Only then do you really have permission and the relationship to tell them about things that they should care about.
Otherwise, why do men who sit through a sportsball game together, sharing nothing of quality conversation between them the entire time, feel like they had a good time getting to know their buddy?
Because buffalo wings are awesome, dudes like it when dudes smash into other dudes, and sportsball is content that brings people together.
Later on, these are the guys and this is the reason one dude will open up about his marriage to the other dude. Instagram is sportsball.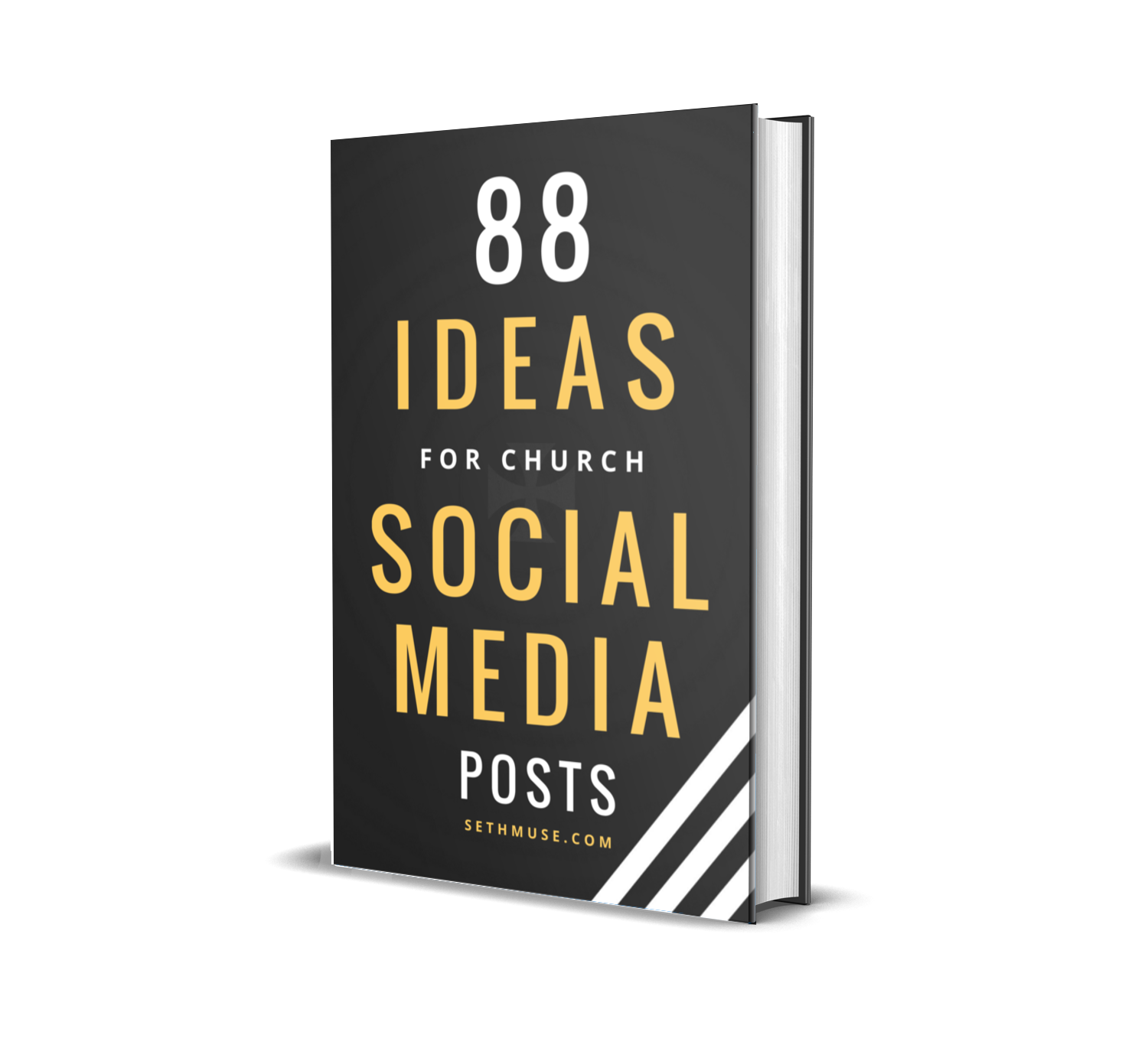 Everybody needs help.
I hear this question all the time from church communicators: How do I keep posting fresh, new ideas to my church social media channels? 
This PDF has 88 ideas that will help you get conversations started on social and bring value to your followers.
Join my very fun email list and I'll send it to you within seconds!