THE SEMINARY OF HARD KNOCKS PODCAST with Seth Muse and Meagan Ranson
Church Communications | Marketing | Social Media
Carl Barnhill of Twelve-Thirty Media specializes in making Sunday happen for churches. But now, that looks really different since moving to the online-only format during the COVID-19 pandemic. Should pastors try to do the same thing online that they would in an in-person service? That is our topic today on this episode!
LINKS

Twelve-Thirty Media
COVID-19 Resources
Making Sunday Happen Podcast
Carl on Twitter
Kapwing
TEMI.com 
Rev.com
Seth on Instagram
Meagan on Instagram
OTHER GREAT LINKS
This free online summit will help church communicators master Instagram over three days of intense training! Get your free ticket HERE or upgrade to the Later pass for on-demand access.
Podcast gear! Seminarystuff.com is live!
*Affiliate links mean I may receive a small commission on your purchase at no extra cost to you.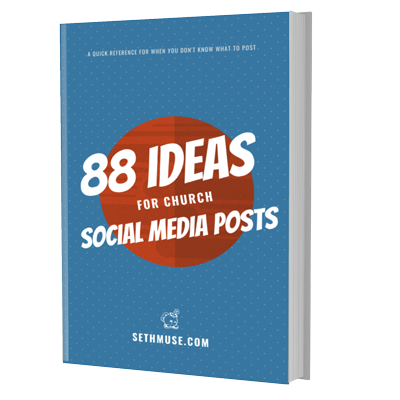 When you're stuck, I've got you covered.
I hear this question all the time from church communicators: How do I keep posting fresh, new ideas to my church social media channels? 
This PDF has 88 ideas that will help you get conversations started on social and bring value to your followers.
Join my very fun email list and I'll send it to you within seconds!